PRE-ORDER 2023 FXR 6D ATR-2 CANDY HELMET
AVAILABLE END OF JANUARY
• Bold FXR graphics
• Removable, washable comfort liner features Genuine Dri-Lex® anti-bacterial fabric
• Emergency Quick-Release Cheek Pads
• PU-over molded EPP lined chin bar includes Sternum Pad
• Goggle band integrated shell recess at the eyeport area, improves goggle fit and seal
• Shear-Away Visor Screws designed to reduce, angular acceleration potential
• Nose guard provides improved roost protection
• Titanium D-Rings
• Light weight with improved center of gravity (+ / - 1480 grams Size M)
• Exceeds DOT, ECE, ACU and ASTM Standards
• 3-Year Limited Warranty

REBUILDABLE ODS SYSTEM:

• Patented Omni-Directional Suspension® (ODS®)
• Improved ODS design mitigates Angular and Linear Accelerations
• Replaceable Inner EPS Liner
• Multi-impact EPP Outer Liner incorporates Isolation Damping Towers
• Rotational Energy Management Disks reduce Angular Acceleration
• Superior low, mid, and high velocity impact mitigation
• Air-Gap Ventila

Sizing


| | |
| --- | --- |
| XS | 53-54cm |
| S | 55-56cm |
| M | 57-58cm |
| L | 58-59cm |
| XL | 60-61cm |
| XXL | 62-63cm |
Omni Directional Suspension

6D's Patented ODS is a fully active, in-helmet suspension and kinetic energy management system. ODS reduces the transfer of angular and linear accelerations to the brain by means of its 3-dimensional displacement capability.
Elastomeric Isolation Damper

This damper is the heart and soul of 6D's exclusive Omni Directional Suspension technology. An array of dampers work in unison with the dual EPS liners to isolate impact energy from the brain. The elastic properties of the dampers, combined with their unique 'hourglass' shape provide a progressive spring rate that manages low and mid-velocity accelerations, while simultaneously allowing the inner EPS liner to displace and shear in 3-dimensional space. This omni-directional displacement capability of the EPS liners provides 'six degrees of freedom', which became the inspiration of the name; 6D Helmets.
Proprietary Face Shield

6D's proprietary face shield allows for maximum field of vision and features a lock-down lever, 10 micro adjustment positions and an articulating pivot, ensuring a quiet snug fit when closed and quick tool-free changes. The face shield also features anti-scratch technology and a Pinlock anti-fog lens.
Shell

Optimized compliant lightweight Tri-Composite Shell provides superior energy absorption.
Advanced Comfort

Removable and washable, the 6D ATS-1 comfort liner is as advanced as the helmet itself. Convertible for warm weather riding by removing the rear neck roll cuff and chin curtain, the airflow characteristics can be significantly altered. High-tech fabrics mated to CAD designed internal padding provide superior comfort, noise suppression and moisture dissipation.
ODS Air-Gap Ventilation System

The ATS-1 helmet incorporates an advanced airflow management system designed to provide adjustable air flow throughout the entire helmet. This airflow system aids in heat and moisture evacuation from within the helmet's interior area providing a cooler and safer environment during extreme riding conditions. Four adjustable intake ports channel fresh air into the helmet where it is managed by a network of fifteen transfer ports and five exhaust ports.
BROAD-RANGE PROTECTION

The Most Compliant Energy Management Solution Available.
From low to high velocity impacts the ATR-2 out- performs the market competitors by significant margins.
The advanced ODS system is freer to manage shearing loads while managing linear compressions with a combination of isolation dampers and variable height EPP damping towers.
LOW-THRESHOLD ENERGY

Low Velocity Impacts are Far and Away the Most Common Type of Off-Road Accidents.
Medical research has provided alarming conclusions surrounding the causes, severity, and long-term effects of concussions. Even seemingly minor concussions may have much more serious long-term effects on the brain.
No other helmet company cared about low-threshold energy transfer before 6D brought the issue to light in 2013. This is the most critical performance range of helmets and covers all impact velocities below the certification standard's requirements, for both linear and angular accelerations.
Low-Threshold Energy is the most concerning problem facing the athlete today, illustrated in this simple graph to the right. As you can see, the energy transfer in all the competitive helmets referenced is at, or above the concussion threshold for an adult male and accurately represents the market.
6D's Omni-Directional Suspension (ODS) starts working the instant any force is applied to the shell. Its suspended inner liner travels and shears under crash impact loading thereby reducing energy transfer to the brain.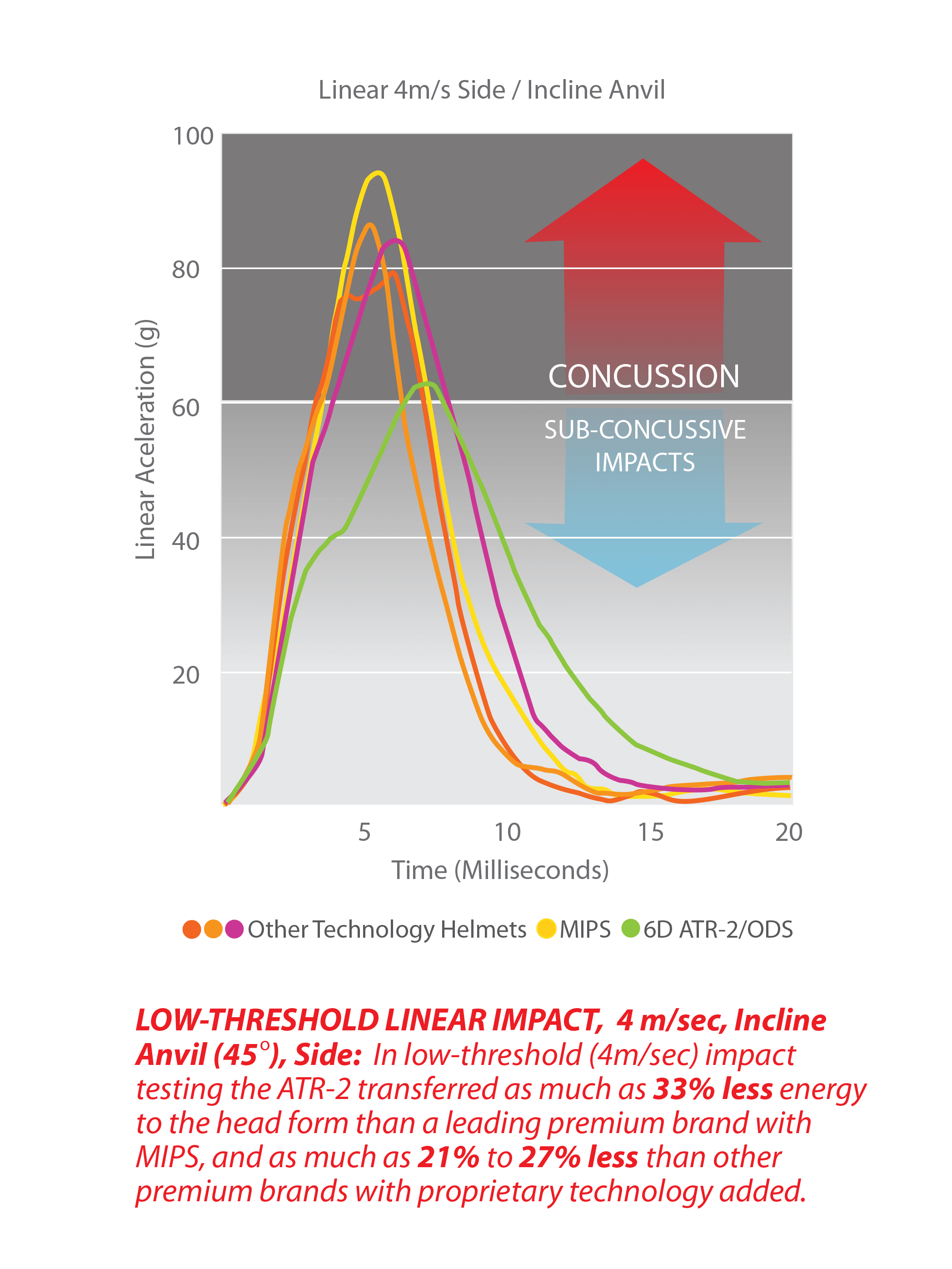 TIME-TO-PEAK (TTP)

Time is Critical in Reducing Energy Transfer to the Brain.
Time-To-Peak (TTP) is the measurement of time (in milliseconds) it takes the energy of an impact to reach maximum (peak) G force. Deceleration time is the single most beneficial component of reducing the severity and magnitude of any impact. The more time, the less severe the energy transfer will become.
6D's advanced ODS technology buys time.
ANGULAR ACCELERATION

Angular Acceleration Force is the Primary Cause of Concussion.
Angular acceleration (rotational force) is generated from oblique angle impacts to the helmet surface resulting in shearing, stretching, and tearing, of the soft tissues within the brain. The medical community has determined that angular acceleration is the primary cause of concussion, traumatic brain injury and worse.
Laboratory testing at Wayne State University* has proven that a helmeted head sustained the same degree of angular acceleration as the un-helmeted head when subjected to identical impacts. This is because the helmet is directly "coupled" to the wearer's head. One of the major benefit features of Omni-Directional Suspension (ODS) is that it effectively "uncouples" that relationship allowing the shell and outer liner to shear independently to the inner layer and the head-form; thereby scrubbing off a high percentage of the angular acceleration force.